A certain Melanie Dayrit commented on this site about Free IQ test. She's so affected with our 'low scores' that she had the nerve to call us idiots. Affected much? And so what if your score is 156? Did that give you a license to look down on us and tell us how bobo and idiots we are? And what do you mean 156? Is this the 156 you are bragging about?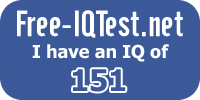 You certainly have problems with your eyes girl. I can plainly see it's 151 and not 156.
As for my test result, I was happy that I got 136 coz it's  already in the Gifted category. I'm pretty sure I am not gifted in any way, and that taking that free IQ test was just for fun and nothing serious. Did you ever read the post and my replies to the comments too? I said that was only chamba and can't believe people are taking me seriously just because I got 136.
I have the right not to approve your comments because your comments are full of trash words.  But I just approved it and added link to your Facebook profile too so people would know who you are. Some of the commenters got scores lower than mine, while others got scores as high as 160 but they just brushed it off and didn't make it such a big deal.
I may not have 156 in the IQ test result, but who cares? I wont even care if I got low scores fit for the "Severely challenged or even below average" category.
Melanie, don't look down on other people just because you think they got pretty bad scores. You're lucky or should I say, genius to have as high as 151 or 156. You're a genius and you could use that to make this world a better place.
Don't look down on other people because you never know if someone is looking down on you too!